Kuranda Scenic Rail | Return Journey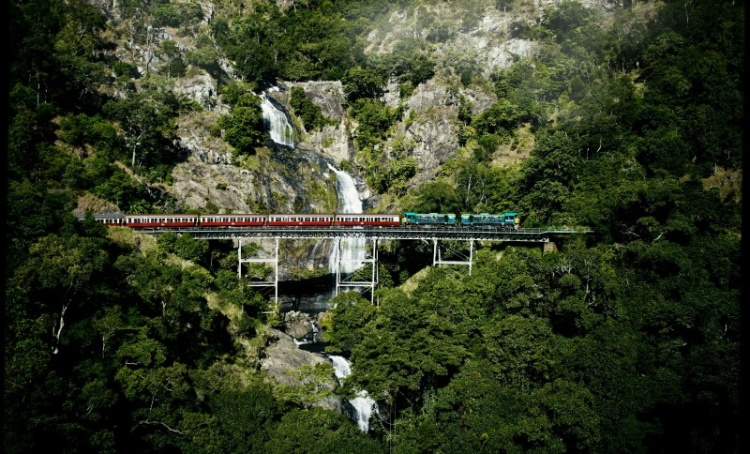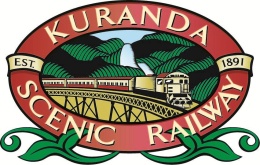 From AUD
$76.00
Kuranda Scenic Rail Departs from Cairns Central and Freshwater stations twice per day.
Kuranda Scenic Rail
Route: Cairns - Kuranda
Duration: 90 minutes
Frequency: Two times daily
Length: 37 km (23 miles)
Features: 15 tunnels, 98 curves, 55 bridges
Wheelchair access: Yes
Kuranda Village Elevation: 380 metres
Kuranda Scenic Rail Timetable
From Cairns Central Station: 8:30am, 9:30am
Cairns Railway station is situated in the heart of Cairns a short walk from most CBD hotels. If you have a car it is possible to have free parking for the day at Cairns Central. Please bring your parking ticket with you at boarding so that Queensland Rail can validate it.
From Freshwater Station: 8:50am, 9:50am
Situated in the nearby suburb of Freshwater, visitors can enjoy a hearty breakfast in authentic antique railway carriages. The Station also includes a railway museum, pioneer cottage, gift shop, and can be hired for a unique function venue. Freshwater Station is the preferred departure point as it has character. There is plenty of free parking here.
From Kuranda Station: 2pm, 3:30pm
Kuranda Station is world renowned for its tropical gardens and historic significance. It is possibly one of the most photographed railway stations in the world.
Special Child & Family rates
We offer special rates for familes. Please check the booking for form for up to date family pricing.
Infants (3 Years & Under) travel free
Children (4 - 14 years) up to 50% off
Family (2 Adults & 2 Children) 1 Child travels free
Kuranda Scenic Rail Journey
The original Kuranda Scenic Railway is a spectacular journey comprising unsurpassed views of dense rainforest, steep ravines and picturesque waterfalls. This famous railway winds its way on a journey of approximately 90 Minutes from Cairns to Kuranda, the village in the rainforest.
Rising from sea level to 328m, the journey to Kuranda passes through World Heritage protected tropical rainforest, past beautiful and spectacular waterfalls and into the awesome Barron Gorge. Upon reaching the village of Kuranda a rich assortment of interesting attractions and unique shopping experiences awaits you.
The Kuranda Scenic Railway can be joined at Cairns Railway Station or Freshwater Connection for morning departures to Kuranda. Journeys from Kuranda Station to Cairns run in the afternoon. The journey includes commentary and all passengers receive a commentary companion which includes information on the history of the railways construction, a trip map and a map of Kuranda.
Wheelchair Access
Wheel chair access at all stations
Wheel chair Ramp at Cairns station
Wheel chair lift at Freshwater & Kuranda stations
When booking please advise you require wheelchair access, so that we are able to provide the appropriate assistance.